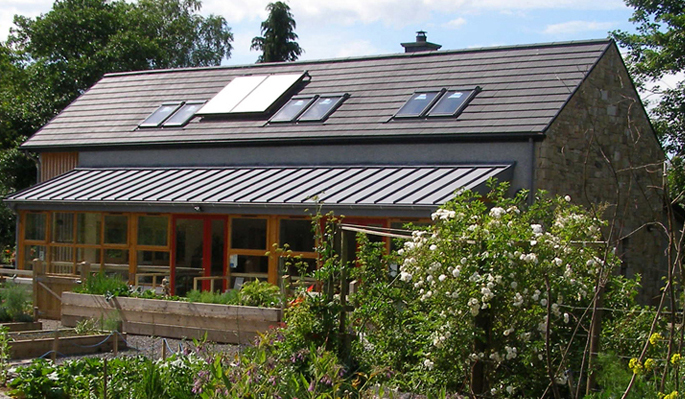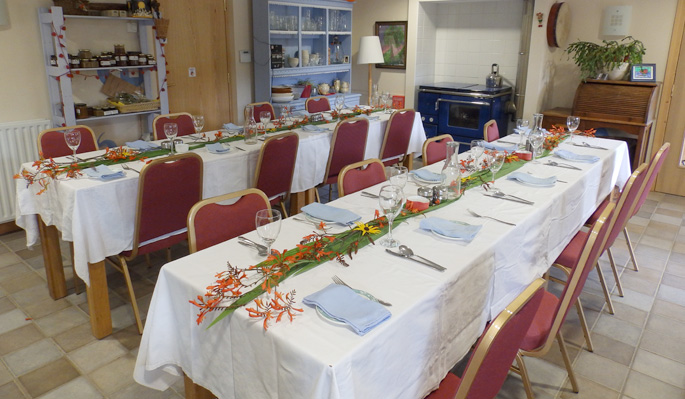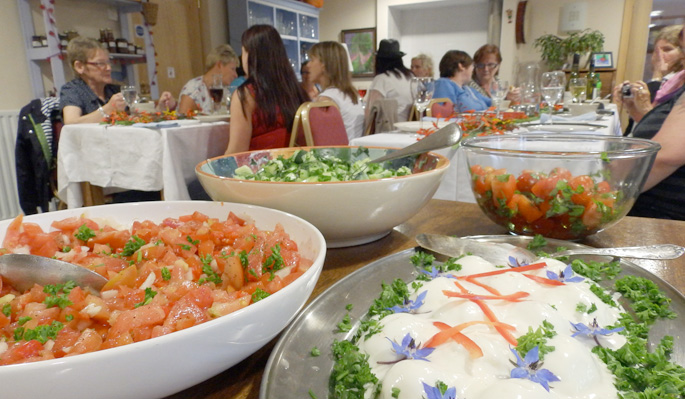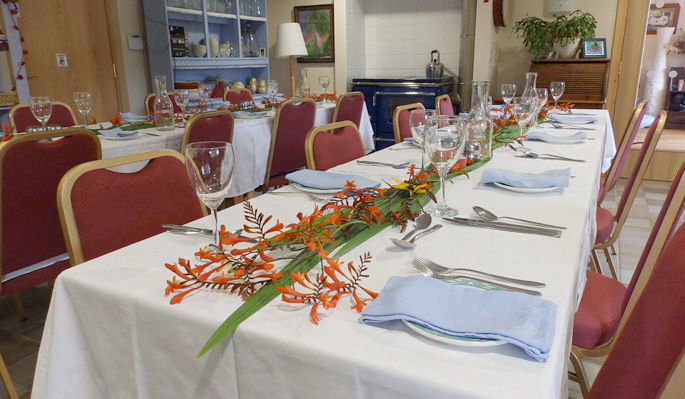 Eco Barn's layout
2 large modern reception rooms
Spacious conservatory;
Outside covered patio area beside the river
Full disabled access in and around the barn
Set in the middle of kitchen garden
Room 1:
Suited for meetings, conferences, functions & formal dining;
Bright with natural light, it has one whole wall of glass looking out to the kitchen garden.
Room 2:
Big country kitchen.
Cookery demos and lessons; informal dinning and music sessions.
The Conservatory:
Flooded with natural light.
Often used for breakout sessions and small group work;
A great chill out zone! A favourite of teenagers on family bookings and local club events.
The Covered Patio area
To the rear of the barn;
Truly magical space in all but the worst weather:
Brilliant for BBQs and round the bonfire gatherings beside the bubbling Coolness River.
What can we supply?
Gorgeous rustic foods from the farm and locality,
All the usual conference/meetings support equipment.
Optional extras such as fruit bowls, favours/goodie bags and unlimited tea and coffee,
Piano, guitars, plug in music system
Yoga equipment.
We can book the best of local musicians, story tellers, face painters and even Northern Ireland's s No1 cocktail maker.
Dedicated Bus park for buses and coaches ALL sizes.
Driver's lunch supplied free.
The ethos of our food and dinning experiences
To meet your needs and budget
To serve five star quality food; with or without formality.
To live up to our BBC, ITV, and international food channels reputation
To grow and serve GOOD FOOD.
Retain our 5 star food Hygiene rating.
Retain our reputation as a Green Business.
How many can we accommodate?
We can offer seated dining for up to approximately 40 people using our classroom and big kitchen combined. The conservatory offers additional space! Formal dining experiences are normally hosted in the classroom where we can accommodation up to 30 persons. Ideal private family celebration. Big informal gatherings (ie parties) using a buffet service/BBQ we can cater for up to 55.
Spring and summer Outside options and…. drink?
We can offer a hog, pit roast or BBQ, price on application to meet your budget and menu.
We can arrange a selection of fine wines, Fermanagh beers, Armagh ciders to taste at reasonable prices; other wise BYOB with a modest corkage.